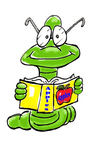 SUMMER READING!
Check with the C-K and Wayne libraries to get details and the schedule of the summer reading program. It is free and promotes reading along with special guests twice a week.
Downloadable Books
Click the following link for downloadable books on West Virginia Reads.
Library Board Meets
The Wayne County Library Board is scheduled to meet Tuesday, June 21, 5 p.m, to discuss the budget.
Downloadable Magazines
link to the left, find a link to Flipster and look at the downloadable magazines now available!
Ceredo-Kenova Library
1200 Oak St., Kenova
(304) 453-2462 voice/fax

Wayne Library
325 Keyser St., Wayne
(304) 272-3756 voice/fax

Fort Gay Library
8608 R Broadway, Fort Gay
(304) 648-5338 voice/fax

E-mail us at
wcpl@cabell.lib.wv.us