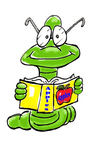 November Closing Days
Wayne County Libraries will be closed Tuesday, Nov. 11, for Veteran's Day and Thursday, Nov. 27 for Thanksgiving.
Downloadable Books
The West Virginia Reads website has all the info you need on downloadable books.
C-K Art Class
Greg Goode's art class for children will be held the first Monday of each month at 4:30 p.m. Check with the C-K Library for details.
Ceredo-Kenova Library
1200 Oak St., Kenova
(304) 453-2462 voice/fax

Wayne Library
325 Keyser St., Wayne
(304) 272-3756 voice/fax

Fort Gay Library
8608 R Broadway, Fort Gay
(304) 648-5338 voice/fax

E-mail us at
wcpl@cabell.lib.wv.us