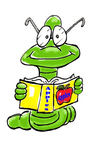 Thanksgiving Closed Dates
All libraries will be closed Nov. 26-27 to observe Thanksgiving. C-K Library will also be closed Nov. 28.
Downloadable Books
Click the link below for downloadable books on West Virginia Reads.
Downloadable Magazines
Using the Library Databases link to the left, find a link to Flipster and look at the downloadable magazines now available!
READ TO ME
Nov. 15-21 is WV Family Read Week. Thursday, Nov. 19, is Read to Me Day in many area schools.
Ceredo-Kenova Library
1200 Oak St., Kenova
(304) 453-2462 voice/fax

Wayne Library
325 Keyser St., Wayne
(304) 272-3756 voice/fax

Fort Gay Library
8608 R Broadway, Fort Gay
(304) 648-5338 voice/fax

E-mail us at
wcpl@cabell.lib.wv.us